Fred's war began with his enlistment on 12th August 1914. He enlisted into A Company, 7th Battalion the East Surrey Regiment. His army service number was 70, and his rank was Private.
For the next ten months (August 1914 to May 1915), Fred would have been given basic training, ahead of his departure for the Front.
June 1915
7th Battalion the East Surrey Regiment embarked for France on 1st June 1915, and on that day Fred sent his first word home – a postcard to his mother, posted at Ashford, Kent, with the words "We are now on our way". 
With her elder son, Charles, having been killed in action just seven months earlier, one can only imagine how the news of Fred's departure affected
Mrs Alice Doe, and the rest of the Horsnell–Doe household at home in Hatfield Peverel.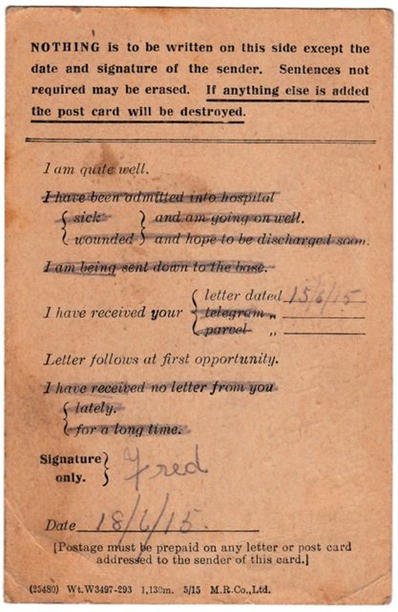 Within days of arriving in France, Fred had started writing letters and postcards, and early on we see evidence of the army censor at work, as his letter of 12th June 1915 has been cut to remove the address.
Aside from mundane, everyday chit-chat about the weather, the garden at home, and members of the family, we learn of Fred's respect for his Platoon Officer, and his plans to find out where his brother, Charles, is buried.
There's also evidence of letters received by Fred from his mother, as indicated on his Field Service Postcards. These were received by Fred in as little as four days from when they were written, no doubt bringing the very latest news from home. Sadly, none of Fred's mother's letters have survived.
July 1915
A Field Service Postcard written 1st July hints at what is to come, as Fred indicates "I am being sent down to the base". His first experience of front line action follows soon after, and in a letter of 16th July he refers to his Platoon Officer being killed. 
Fred is surprised to learn that his younger brother Arthur is now in France, and seeks to reassure his mother that he will be safe away from the trenches (this is because Arthur was a Driver in the Army Service Corps, stationed well behind the front line). Fred mentions the Battle of Mons (1914) by name – the only battle he names in any of his letters. 
He asks about the garden and fruit picking at home, and tells his mother she looks "worried" in a photo she sent him. A second photograph is duly despatched which is much more to Fred's liking.
Fred celebrated his 21st birthday on 8th July with a singsong, his mother telling him he would always remember where he was for the occasion.
August 1915
For the first week of the month Fred was in the trenches, but he's clearly receiving a steady flow of letters from friends and family – he finds it hard to keep up replying to them all. It was at times like this that the Field Service Postcard came in handy, as shown by the one Fred sent to his mother on 25th August which gave her the official army line: "Letter follows at first opportunity". Blunt as this was, it maintained a degree of contact with home, and gave some reassurance to loved ones.
September 1915
Fred spent much of the month in the trenches, and heavy rain gives him some idea of what conditions in the winter might be like. However, by the end of the month he's enjoying some late summer sun, but feeling the cold at night. He tells his mother he will be needing thick vests from home.
He speculates that the war is not yet half-way over, and enquires if all the young lads in Hatfield Peverel have enlisted yet. A letter from his step-father sparks his interest in fruit and vegetable growing, and there's more than a hint of a merry night once spent on a station platform, worse the wear for drink!
October 1915
Fourteen days without a wash and having a rough time in the trenches, Fred writes. He's been "over the top" and has charged across No Man's Land to capture a German trench, and many comrades have fallen. From the regimental history of the East Surrey Regiment, Fred is almost certainly referring to the Battle of Loos and the capture of a German trench known as "Gun Trench".
He asks his mother to send him his vests – winter is approaching.
November 1915
Thoughts of brother Charles are on Fred's mind as he reflects on the first anniversary of his death. It seems that fellow Hatfield Peverel boys A. and R. Spooner have visited Charles's grave and described it to Mrs Doe while on home leave. She, in turn, describes it to Fred in a letter.
By late November, Fred is saying he won't be home for Christmas, and the weather has taken a turn for the worse – "But still we must not grumble".
Fred was promoted to Lance Corporal on 12th November, leading to brother Arthur writing home on 25th November saying how Fred would be able to "swank when he comes home for a few days".
December 1915
As the year draws to a close, sarcasm creeps into Fred's letters when, on Christmas Day, he writes: "The Huns keep dropping their dear little shells quite close. I suppose they want to hurt someone." He's not at home to enjoy Christmas with the family and cannot get drunk as he only has tea to drink.
The winter weather has set in and he is "waist deep in water". It is, he says, "not fit for a dog to be out here".
Letters and postcards written by Fred in 1915,
all of which have survived

Month

No. of letters

No. of Field Service Postcards

June

4 + 1PC

2

July

4

4

August

2

1

September

3

1

October

3

6

November

3

1

December

2

2

Year total

22

17
Letters written to Fred in 1915,
none of which have survived – indicated on his Field Service Postcards and in his letters

Month

Sent by

June

Mother
Nancy

July

Mother
Arthur
Mercy
Dorothy

August

Mercy

September

Mother
Father

October

Mother

November

Mother
Arthur

December

Mother
Mercy