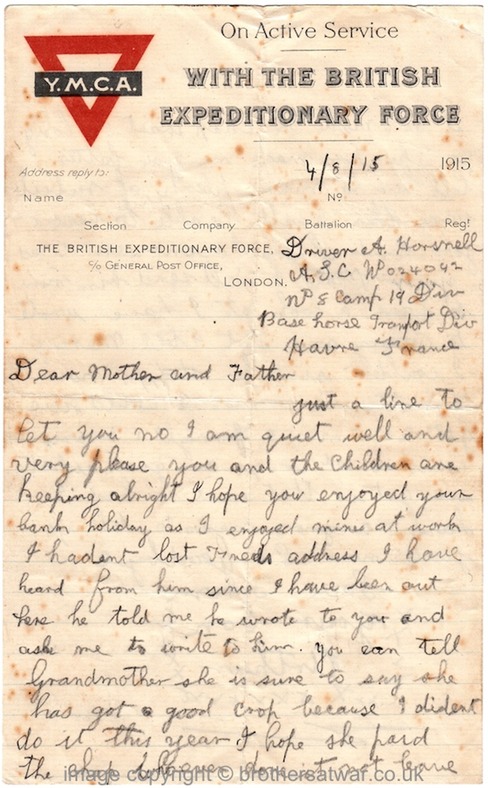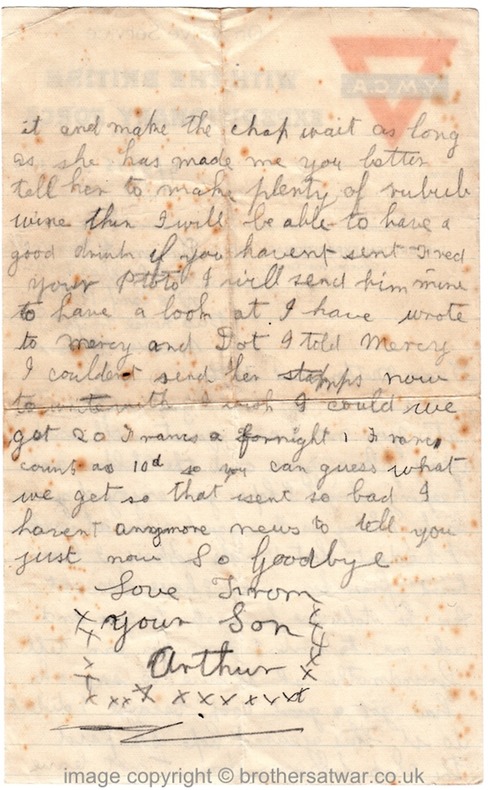 Arthur 2
Driver A. Horsnell
ASC No 024042
No.8 Camp 19 Div
Base Horse Transport Div
Havre, France
4th August 1915
Dear Mother and Father,
Just a line to let you no I am quite well and very please you and the children are keeping alright.
I hope you enjoyed your bank holiday as I enjoyed mine at work. I hadn't lost Fred's address. I have heard from him since I have been out here. He told me he wrote to you and ask me to write to him.
You can tell Grandmother she is sure to say she has got a good crop because I didn't do it this year. 
I hope she paid the chap whoever done it not leave it and make the chap wait as long as she has made me. You better tell her to make plenty of rhubarb wine then I will be able to have a good drink.
If you haven't sent Fred your photo I will send him mine to have a look at.
I have wrote to Mercy and Dot. I told Mercy I couldn't send her stamps now to write with. I wish I could. 
We get 20 francs a fortnight – 1 franc counts as 10d [ten pence] so you can guess what we get so that isn't so bad.
I haven't any more news to tell you just now so goodbye.
Love from your son,
Arthur
xxx